The Experience
You may have been to immersive dining experiences before. But Chambers is something entirely different.
---
★★★★ - Broadway World.
"A highly entertaining, clever and delicious evening out."
★★★★★ - West End Wilma. 
"One would be hard pressed to find a quirkier way to enjoy a five-course dinner in the capital..."
---
Gingerline's Chambers is a fully immersive & interactive, 5-course, multi-room dining adventure. Formerly known as Chambers of Flavour, this is the 4th adventure through the multi-verse.
On the day of your adventure, you will be directed by the hidden HQ in Hoxton by text. Once you find our secret headquarters, you will be thrown (carefully of course) headlong into the multi-verse to embark on a 120 minute, 5 course, multi-dimensional dining adventure.
All the other details including who you'll meet, which dimensions you'll visit and exactly what you'll eat, are kept top secret until the day of your adventure. Trust us, it's more fun this way.  But be warned, Chambers is not for the meek or cautious of palette, our motto is 'only the brave will dine' after all. 
That's all you need to know. Just go with it. 
Tickets start from £55 and include 5 flavoursome courses, a palate cleanser, a welcome drink plus 120 minutes of playful explorations through 5 dining dimensions.
Not sure how multi-dimensional dining works? Read more here. 
Tickets are non-transferable or refundable when booked.
For a reminder of our ts&cs click here.
---
★★★★ - The Upcoming  
"Uttlery bonkers..."
---
At Chambers you'll enjoy a secret set, 5-course menu produced by Gingerline's food partner Flavourology.
Although you won't know exactly what you'll eat before you arrive, we promise it'll be delicious. Expect unusual flavour combinations a plenty. You may have to forage, pick, smell, touch but most of all taste your dishes. Go with it, it'll be fun.
Dietary preferences will be collected on booking and directions to our location in Hoxton will be texted on the day of the event.
To whet your appetite, here are some delicious dishes diners found in previous dining diemensions.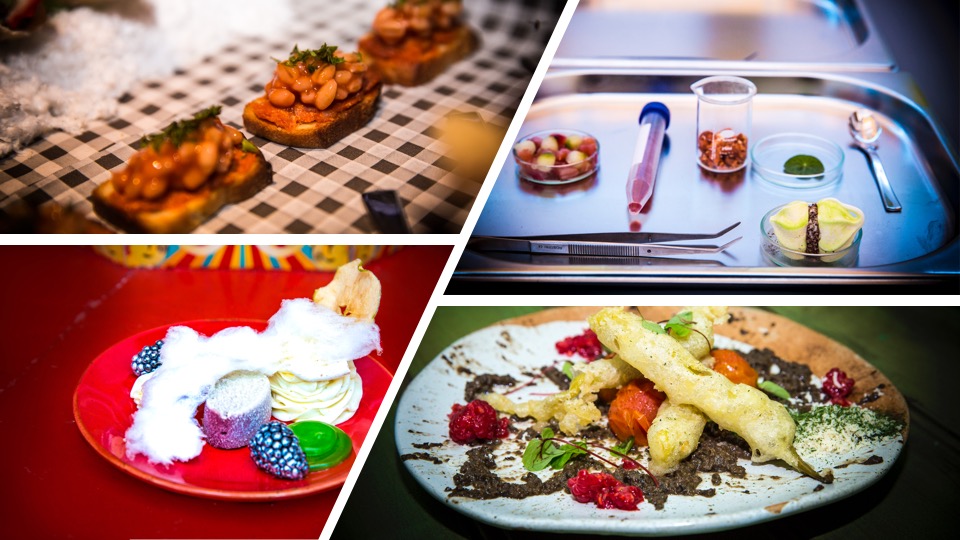 ---
★★★★ - Broadway World 
"The food itself is excellent and certainly the most creative I have tried during this type of production"
★★★★★ - Culture Whisper 
"Wacky and wonderful immersive dining experts Gingerline thrill with their latest multi-dimensional dining experience."
---
Gingerline have a delectable track record in creating delicious dining experiences. This version of Chambers is the 4th adventure through the multi-verse. Previous versions have seen diners soaring through the skys on Air Gingerline, riding a Creme Carousel, conversing with mermaids and competing in a taste centric game show - A Matter of Taste. 
Don't worry, there are no spoilers here. Chambers contains 5 brand new dining dimensions. Are you ready to delve deep into the multi-verse? Good! See you soon. x